UC Santa Barbara experts weigh in on the effects of offshore wind energy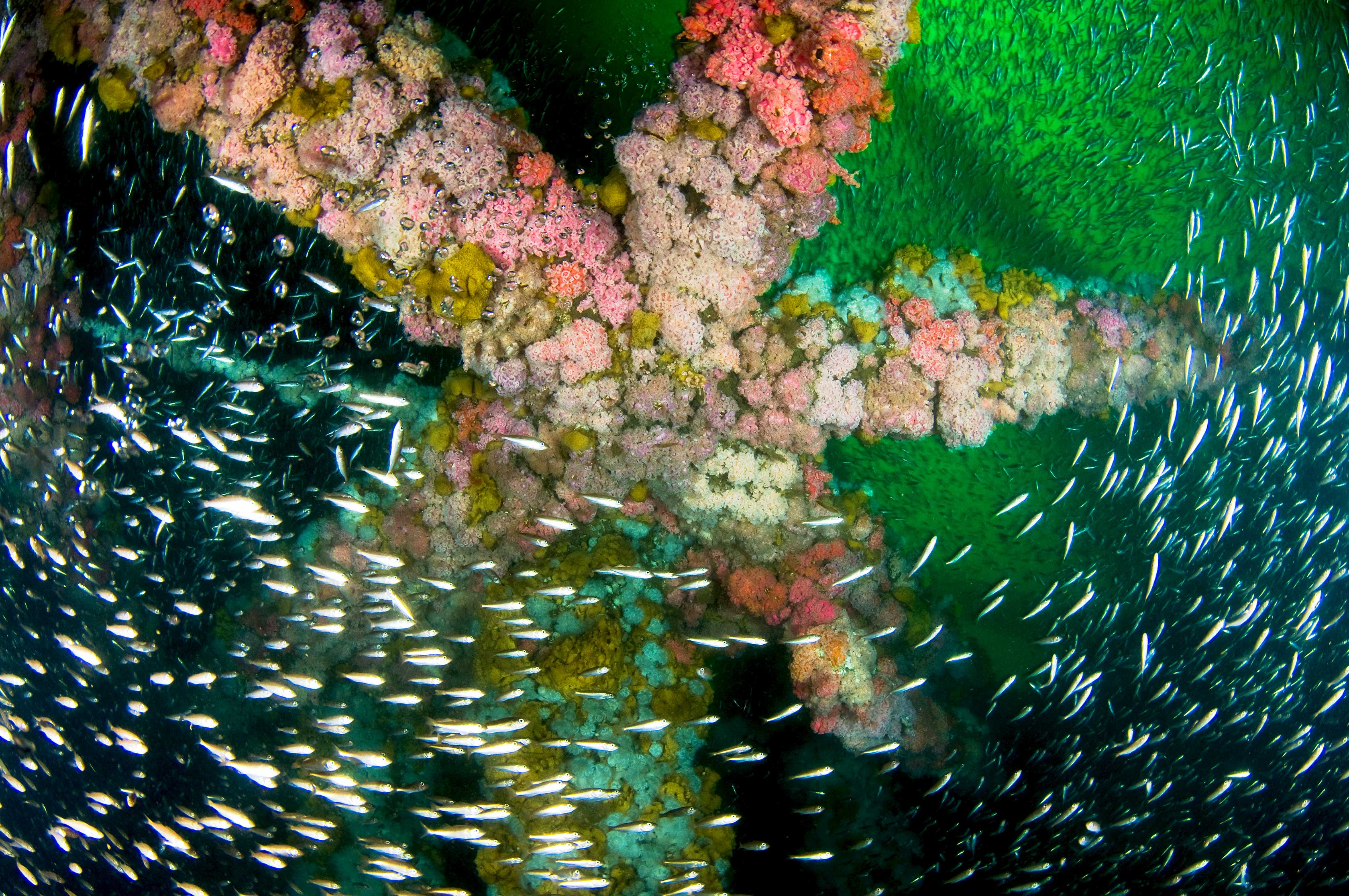 A large school of young bocaccio, Sebastes paucispinis, swims around the Southern California oil platform Gilda. Research by Dr. Milton Love and colleagues demonstrates that most California oil platform and gas platforms act as nursery grounds for a range of fishes, most of them, like bocaccio, of economic importance. Photo Credit: Scott Gielter
In late May the Biden administration reached a decision to open two parts of the California coast to offshore wind energy: a 399-square-mile area off Morro Bay and another location off Humboldt County.
At the global level, every effort to decarbonize is a boon for wildlife and the ecosystems they depend on. However, projects like wind farms and solar plants can impact their local environment. A commitment to sustainability involves looking at these concerns so they can be addressed in design and implementation.
Researchers at UC Santa Barbara with expertise ranging from energy systems and policy analysis to ornithology and marine life offer their take on how offshore wind capacity fits into the country's energy portfolio, as well as the effect it may have on humans and wildlife.
The effect of the installations below the surface is perhaps even more nuanced. That said, there is some indication what might occur based on the interactions between marine life and other artificial structures in the ocean like buoys and oil platforms.
Much of what happens depends on how deep each turbine extends below the surface. "But there's no question you'll get a lot of animals living on it," said Milton Love, a researcher at the university's Marine Science Institute (MSI). "If you include little amphipods and things like that, you're talking millions and millions of animals."
"Deep sea animals that live in and on the mud will lose habitat impacted by the anchors," added Mary Nishimoto, also a researcher at MSI. "But, in the upper part of the water column, where sunlight penetrates, the floating structure and anchor lines will provide surfaces for algae and invertebrates to attach."
Love and Nishimoto, who've spent decades documenting the ecology of California's oil platforms, explained that any submerged structure will essentially function as reef. Just as they do on oil platforms, encrusting invertebrates and algae will transform the underwater structure into a living habitat. Mussels, barnacles and the like will colonize the first 50 feet, followed by anemones, corals and sponges if the structure goes deeper.
More Coverage
Winds of Change: UCSB Experts Weigh in on Effects of Offshore Wind Energy
Noozhawk.com, August 18, 2021, 10:28AM
MSI Principal Investigators